The inaugral WeTeach_CS Summit (June 7-9) will feature 6 General Sessions and 56 Breakout Sessions presented by an exciting lineup of national speakers and some amazing Texas educators. Today, we spotlight a very special event taking place during the WeTeach_CS Summit, a free screening of The Computers: The Remarkable Story of the ENIAC Programmers, which includes a Q&A with  producer and ENIAC Programmers Project founder,  Kathryn Kleiman.
The Computers is an inspirational story that will change stereotypes and throw open doors. It will help students see that technology careers lie within their grasp, and computing  professionals know that their field's greatest computing pioneers included women and men! [eniacprogrammers.org]
Screening – Wednesday, June 8, 4:00 PM
The Computers: The Remarkable Story of the ENIAC Programmers Screening and Q&A
Kathryn Kleiman
Founder
Follow on Twitter – @KleimK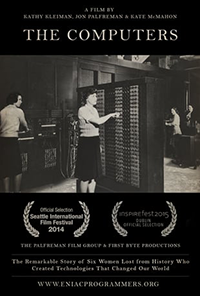 In 1946 six brilliant young women programmed ENIAC, the world's first all-electronic, programmable computer as part of a secret US Army WWII project. They programmed a ballistics trajectory calculus equation without programming languages (for none existed) and it worked perfectly. Yet when ENIAC was unveiled to the press and public in 1946, the women were never introduced. They became invisible.
Kathy Kleiman found and interviewed the ENIAC Programmers and in 2013 teamed up with award-winning PBS producers Jon Palfreman and Kate McMahon to tell this incredible story. "The Computers" premiered at the Seattle International Film Festival and Inspirefest2015 in Dublin.
Featuring Movietone footage of the 1940s and never-before-seen interviews with the ENIAC Programmers, "The Computers" is a beautifully-produced 20-minute documentary designed to fit into classroom schedules for high schools and middle schools. It is the powerful story lost for 70 years of the founding of computing technologies we cannot live without— by six incredible young women everyone should know!
Related Links
About WeTeach_CS Summit 2016
What: WeTeach_CS Summit
When: June 7-9, 2016
Where: UT Austin Pickle Research Campus
Cost: $180/attendee
Are you interested in opening up the world of coding, programming and computational thinking to your students?
Are you looking for new ways to make learning meaningful, engaging and relevant to the world in which your students live?
Do you want to help your "digital natives" to move beyond being consumers of technology and become creative and innovative technology producers?
If you answered YES to any of these questions, this inaugural WeTeach_CS Summit is for educators like YOU!
Best of all, through the support of TEA, every Texas educator, no matter how far they live from Austin, can afford to attend. The Center for STEM Education will reimburse travel and lodging costs for all Texas educator attendees!