Ramp Up Your Computer Science Teaching Career at the Inaugural
WeTeach_CS Summit, June 7-9, 2016, Austin, Texas
The leading K-12 Computer Science professional development event in the nation!
Note that registration is now closed for this event. 
Computer Science education isn't just about bits and bytes, it's about helping today's students become the technology leaders of tomorrow. As you open the world of coding and computational thinking to K-12 students in Texas, the TRC is opening new resources and networking opportunities to you with its inaugural WeTeach_CS Summit, June 7-9 in Austin coordinated by The University of Texas at Austin's Center for STEM Education.
Created specifically to help new as well as experienced CS educators K-12, the WeTeach_CS Summit offers a lineup of national speakers, a student expo, vendor exhibits, panel discussions, breakout sessions, networking opportunities and even a screening of the documentary The Computers: The Remarkable Story of the ENIAC Programmers.
WeTeach_CS Summit Agenda
The WeTeach_CS Summit Agenda is available for download in pdf format, for anyone who wants to learn more about the available sessions and get a jump on planning their WeTeach_CS Summit experience.
The agenda contains a full schedule of events, as well as descriptions of all 56 breakout sessions.
Download the agenda in pdf format.
Opening Session
Layering Life: Adventures in 3D Printing, Year 1
Joy Schwartz
Technology Teacher
Hardin-Jefferson High School
Learn about a global opportunity to use CAD software and 3D printers to make a difference in the lives of all involved–recipients, students, and teachers. We will share how schools can become active participants/contributors in the E-Nable organization which provides low-cost 3D printed prosthetics to children in need.
Presentation Link
Awards Presentation
UT Austin CS Change Maker and CS Mini-Grant Award
Alison Derbenwick Miller
The Center for STEM Education at The University of Texas at Austin is pleased to present two CS Mini-Grant, and two CS Change Maker awards sponsored by Oracle Academy and presented by Alison Derbenwick Miller.
Previously, Oracle Academy has partnered with the TRC to bring the Keep Calm and Java On series of courses to Texas CS teachers.
Keynote Session
Expanding access to CS: Why and How
Colleen Lewis
Assistant Professor of Computer Science
Harvey Mudd College
Despite the world-wide underrepresentation of women, at Harvey Mudd College 40% of CS majors are women. At UC Berkeley, the percentage of CS majors who are women has nearly doubled in the last 10 years. Professor Colleen Lewis has participated in designing, implementing, and evaluating diversity initiatives at both institutions. She will discuss how the interventions at each institution could be translated for use in K-12 to remove structural and cultural barriers to students' access to CS.
Featured Panel Discussion
WeTeach_CS: Lessons Learned from Successful Business Partnerships
Panelists
Carol Fletcher – Deputy Director, Center for STEM Education, UT Austin College of Education
Denise Hobbs – Regional Director, North America, Oracle
Erin Mindell Cannon – Program Manager, Google
Lori Ham – Education Sales Director, Microsoft
Tracy King – Vice President Public Affairs, AT&T
Moderated by
Sean Duffy – Founder, EdTech Austin
CS for All isn't just a slogan. Broadening and diversifying access to high quality CS education is vital to the future success of American businesses. Join this panel of amazing female high-tech executives to learn more about how their companies are partnering with entities like The University of Texas to help K-12 educators realize the vision of CS for ALL. Moderated by Sean Duffy of EdTech Austin, panelists will share examples of student and teacher programs sponsored by Oracle, Google, AT&T and Microsoft that support the WeTeach_CS project and much more.
General Sessions
The Computers: The Remarkable Story of the ENIAC Programmers Screening and Q&A
Kathryn Kleiman
Founder
ENIAC Programmers Project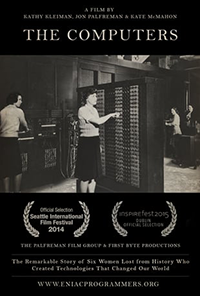 In 1946 six brilliant young women programmed ENIAC, the world's first all-electronic, programmable computer as part of a secret US Army WWII project. They programmed a ballistics trajectory calculus equation without programming languages (for none existed) and it worked perfectly. Yet when ENIAC was unveiled to the press and public in 1946, the women were never introduced. They became invisible.
Kathy Kleiman found and interviewed the ENIAC Programmers and in 2013 teamed up with award-winning PBS producers Jon Palfreman and Kate McMahon to tell this incredible story. "The Computers" premiered at the Seattle International Film Festival and Inspirefest2015 in Dublin.
Featuring Movietone footage of the 1940s and never-before-seen interviews with the ENIAC Programmers, "The Computers" is a beautifully-produced 20-minute documentary designed to fit into classroom schedules for high schools and middle schools. It is the powerful story lost for 70 years of the founding of computing technologies we cannot live without— by six incredible young women everyone should know!
Presentation Links
Computational Thinking as a 21st Century Skill
Chris Stephenson
Head of Computer Science Education Programs
Google
Is Computational Thinking (CT) an old idea in a new package or a profoundly 21st Century creation? This session will explore the different definitions of CT, some of the driving forces behind it, and how these forces are impacting curriculum design and classroom practice. It will look at the challenges of implementing CT into the classroom and share some new Google resources that might make this easier. We will also discuss how the AP CSA and CSP courses complement each other and their role and impact in expanding and diversifying students studying computer science.
Securing resources to bring STEM instruction to the next level
James Walter Doyle
Director of Policy and Expansion

This hands on workshop will help teachers navigate DonorsChoose.org, a website that allows teachers to request the materials they need for the classroom. Those requests are then funded by both citizen and corporate donors. Teachers will be guided through the process, and then provided with "insider" tips on how to guarantee their project will be funded thanks to the numerous funding opportunities that are available. Bring a laptop and put your creative hats on!
Featured Sessions
Bootstrap: Achieving Equity and Scale through Algebraic Programming
Emma Youndtsmith
Current efforts to develop computing courses face difficult choices between equity and scale. Opt-in classes attract narrow student populations, but mandating CS requires vast resources. Bootstrap is a curricular module which integrates CS and algebraic content through programming video games. The first module can be delivered by math teachers inside existing, mainstream math classes, and later modules bridge both teachers and students toward AP-level concepts. This session illustrates Bootstrap's research-backed approach to program design, in which students use rigorous software engineering techniques to create videogames while reinforcing algebra. Participants will receive hands-on exposure to many activities in the Bootstrap curriculum.
Presentation Link
Active Recruiting: Get Girls into Computing
Lecia Barker
Associate Professor and Senior Research Scientist
University of Texas at Austin, National Center for Women & IT
High school computer science teachers are aware of the exciting careers available for their students, but rarely actively recruit female students into their classes to get them started in those careers. The absence of girls in CS classes is often due to misconceptions and a sense that girls do not belong. This presentation provides a useful, usable structure and resources for developing plans and messages to attract girls into high school CS classes. Attendees will learn to create successful approaches to attract girls and keep track of their results. Participants will receive free, research-based resources from the National Center for Women & IT.
Code.org's Computer Science Professional Development Programs and Changing Expectations Follow-Up Support
Phillip G. Eaglin, PhD
Founder and CEO
Changing Expectations
Come learn how to host FREE Code.org computer science workshops provided by Changing Expectations. At the workshops, FREE CPEs for educator re-certification, Code.org printed curriculum, swag, CS resources, unplugged activity supplies, and teacher/student online accounts needed to teach computer science are provided at no cost. Changing Expectations also provides follow-up support for teachers through afterschool, Saturday, school break, and summer coding camps, which integrate web development, DASH robotics, and Arduino electronics projects.
Presentation Links
Going Beyond the Basics with Drag-and-Drop Coding
Ryan Torbey
K-5 Technology Teacher
Harmony School of Science – Austin
Your students loved Hour of Code, but now what? This session will give you an in-depth look into the world of advanced drag-and-drop coding. We will make a calculator program in Scratch, learn the fundamentals of recursion in Lightbot, and explore the Code.org courses. Additionally, we will dive into Code.org's newest offering, App Lab, which seamlessly bridges drag-and-drop coding with written lines of JavaScript.
Presentation Links
Bee-Bots Dancing to bring Computer Science For All to Young Learners
Karen North
Computer Science Education Consultant
White House CS Champion of Change
Every elementary school in Spring Branch ISD has a 6-pack of Bee-Bots and software to practice spelling and math skills by coding a floor robot with 4 simple commands. Building Connections & Understanding + Real-world Application is a mathematics practice to prepare students to use patterns and relationships to discover the connections between mathematical concepts and their application to real-world models. Bee-Bots can help build those connections! Come Dance with the Bees and See how you can use these and other unplugged activities to build computational thinking skills in the lower grades.
Presentation Links
Using Minecraft Moding in Eclipse to Generate Interest in Java and Computer Science
Regan White
Computer Science Teacher
Whitesboro High School
I am presenting a overview of the creation of Mods in the popular video game Minecraft in order to generate interest in programming and Computer Science in general. The presentation will emphasize the use of Eclipse as a Java IDE and will include how to set up Forge and the entire development environment. The presentation is specific to PC and will require the download and installation of the Forge API as well as the latest version of the Eclipse development environment. This is a brief overview based on my TCEA workshop but will still enable the instructor to set up a Minecraft modding environment and be able to begin the process of teaching modding to generate interest in High School Computer Science
Introduction to MIT App Inventor
Krishnendu Roy
Valdosta State University
In this session the participants will learn about MIT App Inventor. App Inventor is a free programming environment to create Android apps. App Inventor is mainly geared towards high school and middle school students who are exploring computing and programming perhaps for the first time. In this session teachers will be introduced to the basic App Inventor interface, the various components that can be added to an app, and the main app creation workflow. This session will also briefly discuss various App Inventor related curriculum resources that teachers can use in their classroom.
Tips For First Time Computer Science Teachers
John Owen
WeTeach_CS Project Coordinator
Center for STEM Education, College of Education, UT Austin
Now that you have passed the test and earned your CS 8-12 Certification, it is time to prepare to teach computer science in the classroom! Come and learn some helpful hints, useful tips, and valuable advice from someone who has done this for over 20 years and knows the ropes. Learn about what to do and what not to do in the classroom, as well as learn about various curriculum packages suitable and available for use.
Panel Discussion – Student Privacy: What Teachers and Teacher Leaders Need to Know
Panelists
Kobe Pruitt – Education Policy Manager, Future of Privacy Forum
Denise Tayloe – CEO, PRIVO
Beatriz Arnillas – Director of Instructional Technology, Houston ISD
Victor Valdez – Executive Director of Technology, Pflugerville ISD
Balancing the desire to be cutting edge and innovative with the need to protect student privacy can be challenging, particularly when teachers are unclear about best practices for protecting their student's data and privacy. This panel will discuss practical tools, tips and strategies for implementing innovative technology while protecting student privacy including the Student Privacy Pledge that all companies who handle student accounts or data should adhere to, FERPASHERPA.org, and other resources for evaluating the privacy standards and credentials of your school and ed tech resources.
Schedule Overview
Tuesday, July 7
8:00 – 9:30 AM Registration & Coffee
9:30 – 10:30 AM Layering Life: Adventures in 3D Printing, Year 1
10:45 – 11:45 AM Breakouts – SESSION 1
11:45 AM – 1:00 PM Lunch and Student Playground
1:00 – 2:00 PM Breakouts – SESSION 2
2:15 – 3:15 PM Breakouts – SESSION 3
3:30 – 4:30 PM Expanding access to CS: Why and How
Wednesday, July 8
8:00 – 8:30 AM Coffee and networking
8:30 – 9:30 AM Panel Discussion — WeTeach_CS: Lessons Learned from Successful Business Partnerships
9:45 – 10:45 AM Breakouts – SESSION 4
11:00 AM – 12:00 pM Breakouts – SESSION 5
12:00 – 1:30 PM Lunch & Vendors
1:45 – 3:45 PM Breakouts – SESSION 6
4:00 – 5:00 PM The Computers: The Remarkable Story of the ENIAC Programmers – Screening and Q&A
Thursday, July 9
8:00 – 8:30 AM Coffee and networking
8:30 – 9:30 AM Computational Thinking as a 21st Century Skill
9:45 – 10:45 AM Breakouts – SESSION 7
11:00 AM – 12:00 PM Breakouts – SESSION 8
12:00 – 1:30 PM Lunch & Vendors
1:45 – 3:15 PM Securing resources to bring STEM instruction to the next level